Everyone loves music. Thanks to modern technology, we now have the luxury of listening to whatever song whenever we want…with the click of a button. Today, if you're in the mood for some tunes you can satisfy that craving with multiple forms of online music programs. There's so many, so which one to choose? 
Music For The Office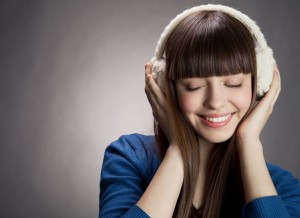 It is encouraged for any business to select a music source for the workers to listen to. Offices use music not just for entertainment, but to help the efforts of the business! Here is why you should consider playing music in your office for your workers…
Helps the workflow
Music can help increase brain activity, to keep employees work in a timely manner. When music synchronizes with a person's heartbeat or an action being done, they move in harmony while working. The tune of a song acts as a driving force that keeps a person's body moving and the brain more focused. Thus, music makes for more efficient productivity. However the type of music played is very important. Music that is too upbeat or distracting could actually encourage less productivity.
You may also enjoy learning about the 7 Top Ways That People Pretend to Work!
Establishes a healthy atmosphere
Music, whether upbeat or relaxing, makes a workplace an encouraging environment. Work appropriate music, such as Adult Contemporary, Oldies, Acoustic, or Jazz, all evoke positive feelings and good vibes! This is essential for workers, who spend most of their days in the office. Work is an employee's home away from home. Thus, it is necessary to establish a workplace that is happy and comfortable.
Check out 8 Tech Etiquette Tips to Enforce in Your Office to find other ways to make your workplace a better environment for your workers.
How To Choose?
Once you've realized that your office could use some music, you need to pick which music service works best for you. Here are important things to consider:
Genre of music. What type of music do your employees prefer to listen to as they work? 
Budget. Can your company afford the monthly ad-free fees? If not, then which program offers less frequent ads? Do your workers mind listening to ads? And lastly…
Which music source?
What to Know About Different Music Sources
Pandora
Pandora makes personalized radio stations. Enter a genre, song, or artist to listen to. Based on what is given, Pandora creates a radio station with an array of songs that go along with the same style.
Cons: Ads, no control over which songs are on the station, limited skips, not available offline, limited songs. 
Spotify
Spotify is free on-demand music streaming. Spotify plays any song, album, or playlist of another Spotify user. Costs $4.99 a month without ads, and $9.99 for offline and mobile. Spotify users can connect through Facebook, Twitter, and Windows Live Messenger.
Cons: Ads
Grooveshark
Grooveshark is a free on-demand music streaming program. Grooveshark is the most social music program, allowing users to access it through Facebook and Google. This program is all about sharing and connecting with other users. Users can share music playlists and see user activity through Facebook, Twitter, Google, email, StumbleUpon, and Reddit.
Cons: Not available offline, ads.
Google Play All Access
Google Play All Access is on-demand music streaming, available for offline use. Costs $9.99 per month for unlimited streaming.
Cons: Only available for Android mobile device.
Last.Fm
Last.Fm is on-demand music streaming of any song, album, or genre. Based off of the music you listen to. Last.Fm also makes recommendations of new artists or songs.
Cons: Incomplete albums and delayed arrival of new music.
Slacker
Slacker generates radio stations based off of a genre, song, or artist. Costs $3.99 for ad-free, which is the most cost-effective price. Costs $9.99 for a premium account that is on-demand.
Cons: Ads.
These multiple music programs make it possible for you to play some tunes for your workers in the office. Now it's time for the biggest challenge, picking one!
You may also enjoy reading about Which Browser is Most Popular and Why?