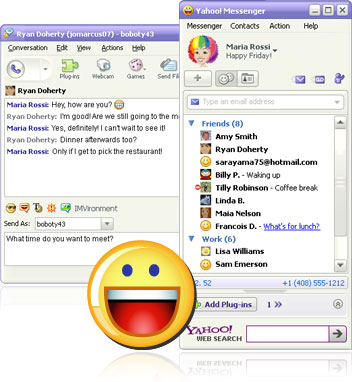 The world today is so much easier than pre-computer times. Back then, we had to actually write letters or pick up the telephone. However, in today's world, you can have a conversation in real-time, using your computer thanks to instant messaging. Almost everyone who uses a computer today also uses some form of instant messaging. Which one should you be using? Well, the good news is that you have a wide variety to choose from.
Each messenger has its own unique functions that make it different from the rest in one way or another. For instance, one of the more popular instant messengers is Yahoo Instant Messenger.
Yahoo Instant Messenger
The Yahoo application gives you several different features such as online and offline messaging, text messaging to your friends cell phones, even calling another computer or telephone right from your own computer. Of course, this isn't all. Yahoo instant messenger also gives you alerts when you get a new email in your Yahoo inbox or other alerts as you want them. Yahoo gives you the ability to customize your chatting experience with Smiley's, IMvironments, Photo Sharing, and many privacy features.
Another popular instant messenger is AIM, also known as AOL Instant Messenger. With AIM, you can talk with your friends, meet new friends, and have fun all at the same time. Let your friends know just how you are feeling or what you are thinking with the new status bar. You can also keep in touch with friends while on the go with IM texting. Now with AIM, you can even play games; really customize your experience with buddy icons, sounds, wallpapers, and alerts. You can even share your pictures or chat with a buddy on video.
Windows Live Messenger
Windows Live Messenger is the latest MSN messenger from Microsoft. It allows every person using your computer to use the Instant Messenger and keeps your family safe, giving you parental controls at the same time. Another great thing about Windows Live Messenger is that you can even add friends from Yahoo messenger to keep in contact. Other features include computer to computer calling, Video IM, folder sharing, text messaging, and various types of alerts.
Other Instant Messengers
There are a variety of other instant messengers that you can use as well. These other messengers include:
• Trillian – Keep in touch with all of your friends from a variety of messengers such as Yahoo, MSN, ICQ, and AIM
• ICQ – An instant messenger and friends program that gives you a great deal of fabulous features.
• MySpace Instant Messenger – Keep in touch with all of your MySpace friends through their unique instant messenger
Instant messaging gives you the ability to keep in touch with your friends and family all across the world, just as if they were sitting next to you. So hurry up and choose your favorite Instant Messenger today if you haven't already!
More about choosing your instant messenger:
 
First Look: Palringo (Instant Messenger for iPhone)
Palringo for iPhone is an instant messenging client. Palringo supports MSN Messenger / Live Messenger, Google Talk, Yahoo!, AOL and iChat as well as some less used messenger clients. Set up on the iPhone could have been easier, …
Don't Shoot The Instant Messenger
Note that the standard computer web version of Windows Live messenger can be launched from: http://webmessenger.msn.com YAHOO MESSENGER Another excellent mobile friendly web based instant messaging client that is comfortably accessible …
USA Today's AOL Instant Messenger (AIM) News Alerts help keep you …
Now you can receive real-time news alerts and search current and archived USATODAY.com headlines – all through AOL Instant Messenger (AIM). With USATODAY.com's real-time news alerts, you can be the first to know: …