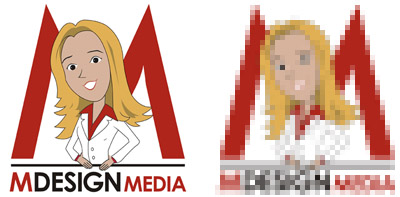 Your company logo is vital to your representation. It's the image that demands attention by potential clients! So how does one get a sleek logo?
Create a Crisp Logo for All Uses
When you're creating a logo, you're going to use it throughout your branding including your letterhead, website, brochures, T-shirts, car wraps, fliers, billboards, pens and pencils and more. 
Because your logo is going to be stretched and bent, and it needs to be flexible enough to keep it's crispness and shape in all uses.
So why is it that when you enlarge your logo it winds up with an ugly jagged edge?
The simple answer: you have a logo saved in a raster, or pixel-based, format. This means that your image is made up of hundreds or thousands of tiny blocks, each one an individual color, and when you enlarge the picture you're really only making those square blocks larger. Thus, you get an image that looks like a stack of blocks.
The solution is to have your logo drawn and saved in a vector format.
In a vector graphic each line and curve is noted as a line or curve, and recorded geometrically. As a result, when you enlarge your logo, you see only clean sweeping lines, each in the correct color and each holding its position, size, and shape relative to the rest of the logo. No jagged lines, no blocky edges.
However, you can't create a good vector image out of a complex image, like a photograph. Instead, your photos will have to remain in the pixel-based format.
Besides infinite stretchability, vector graphics have the advantage of having an inherently transparent background. That means that the background that you place them on will show through except in places where it's not supposed to. Some raster graphics do okay with transparent backgrounds, but most look strange when you start shuffling them from background to background.
Adobe Illustrator and similar programs create vector graphics, as opposed to Photoshop's raster graphics.
Vector logos vs pixel-based logos can both be created in a few of the Adobe graphic programs. Vector graphics are saved in file formats .ai, .eps, and .cdr formats, with .eps being the most generic and easy to work with. In fact, if you're delivering a logo for print purposes, most printshops will ask for their file to be in .eps format.
At MDesign Media, we create all logos in Illustrator so you definitely have a vector format that you can enlarge as big as needed without losing resolution. Take a look at our logo design portfolio for samples of our work. We have a logo design package that starts at $595. We also run some seasonal deals such as half off custom logo design a few times a year.
Check out Why Every Movement Needs A Logo by the New York Times' Opinion Page.