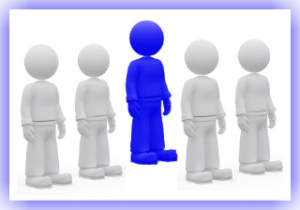 I was talking with one of my clients this past week and she was telling me how it seems that everyone has a Page on Facebook these days…website design companies, mri centers and yes, even non-profit organizations!  "I know," I replied!  But how many of these Pages are actually good?  How many were impressive enough that you "liked" them?  How many would you want to visit more than once?
In a world where Facebook pages can literally be set up in three steps by just about anyone, the key is differentiation!  What makes your Page truly different?  What makes it memorable?  What makes people come back?  The answer to those questions depends on your industry, your target market and your services (among other things).
There are, however, a few keys ways to differentiate your page.  You can create a custom tab (and you can make that tab your 'landing page' for non-fans or "likers" [ok, so I made that up!]).  You can make your page engaging by truly welcoming and fostering interaction and debate.  And you can provide useful, new and unique content that can't be gotten elsewhere!
Whatever your bend, my suggestion is to do whatever makes sense for you.  Differentiation in a sea of monotony is the name of the game! How do you differentiate your Facebook Page?
How Social Media Affects SEO is another great blog post you can read if you want to know more about how to bring traffic to your website.