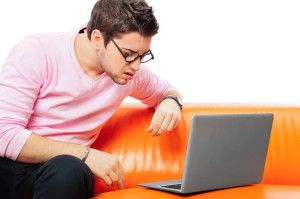 Have you got a website built with a free web design template? Or, are you considering building a website using a free web design template?
Free sounds good, we know, but it's not always the best way to go — particularly for a business that is trying to establish themselves as professional and that is striving to use that website to generate business growth. Here are some potential downsides of going with a free website template rather than hiring a web designer to create a customized website for you.
Generic Look
Cookie cutter websites can look like cookie cutter websites.  If you're in the automotive industry and you have a generic looking car as the background of your site, this makes your site look homemade.  Conversely, a professional logo and something that works with the brand you are putting out there says that you've spent time and money to create a serious website.
Promotional Links in Exchange for Free Templates
Free websites often have links at the bottom that go to the web designer's website. This is smart of website designers. They get free promotion in exchange for giving away a template. But they often look free and can take your professional image down a notch.
Limited Features
When you use a free design template you are settling. There's usually a limited amount of customization that can be done and when you set it up yourself, you may not have the knowledge needed to make desired changes. For that reason, you may be 'settling' for a website that's functional but that doesn't exactly give you everything on your wish list.
Investing in a professionally created website doesn't have to cost a fortune. The web design industry is so competitive that you could find that it costs a lot less than you'd expect. And investing in your website is an investment in your business and future success.
Work with us at MDesign Media. We offer professional web design, SEO services, logo design, web maintenance, and more. We can also offer website maintenance services so that you won't have to worry about the time, effort, and technical expertise required to ensure that your fabulous new website is maintained. Contact us for a web design quote today.