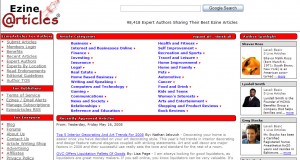 When you are trying to increase traffic to your website one great way to do this is by posting articles that lead back to your site. Posting articles is a great way to generate genuine traffic to your site and it is also relatively easy to do and if you can write the articles yourself it will only take a little time on your part.
The first thing you should know is one of the best place to put your articles is on an article directory. There are literally hundreds available. Placing your articles on a directory gives you access to thousands of people that are looking for content for themselves. However you should know that each directory has its own set of rules for submission that you should read and understand.
Next you need to look for a directory that actually generates a lot of traffic. The higher the PR the more people the site gets. There is no need to submit your article to every directory just pick four or five that you like and submit them there. Here is how the submission process works for almost every article directory:
• Your Article -You need to write a good article. This means that you should proof read the article, making sure that there are no grammatical errors or spelling errors. Make sure that your articles are not keyword stuffed. This means that your keyword should really only be throughout the article 1%-2% then use some synonyms. Violate either of these two rules and your article will be denied.
• Registration – Each directory requires you to register as a user. It is a short form and just requires some basic information. These things include your URL address, email address, a user name and password. Once that is set up and confirmed you will be allowed to post your articles.
• Posting the article – You will be able to cut and paste your article on to the submission form. There will be a separate line for your title, your summary, the article itself, and your keyword list. When you post your article you will need to preview it first this way you can make sure your links work properly and any Html you have used is also working.
When you are looking for where to post articles online try starting with the article directories. One of the most popular directories is Ezinearticles; they give you the opportunity to become an expert author which can be used on your website to further your credibility. Articlesbase is another good Free Online Article directory you might want to check out.
Just remember that each directory has its own submission rules so read them carefully. They will tell you how many words the article needs to be, whether or not you can use html, they will also tell you how many direct links that you can incorporate in your article and your bio.
You can check out one of our articles on Articlesbase and find out why you should have a website .