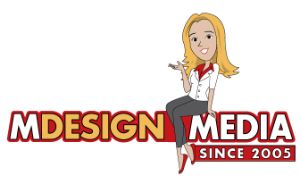 MDesign Media is a creative design company specializing in all things visual. Design is our passion and we apply our creative insight and expertise to every project. Whether creating a website, developing a complete corporate identity or simply producing a brochure, the principle is the same. We believe that your graphics should accurately convey who you are and what you represent in a visually appealing fashion. Couple this philosophy, with a strategically developed marketing plan, and we believe you have the elements needed to succeed in business.
Website Design and Development Services
MDesign Media specializes in creating cost efficient websites that are not only aesthetically pleasing, but easily navigable and conducive to your overall marketing goals. Each site is designed to reflect the client's business or organization perfectly and no two projects are the same.
We specialize in WordPress Theme websites, custom and template solutions are available.  MDesign Media offers a wide variety of solutions that will work within your infrastructure.
In an attempt to assure that that people visit your new place in cyberspace, MDesign Media makes sure that your website is search-engine-friendly.  The higher a site "ranks", the more people will visit the site. These efforts may focus on a site's coding, presentation, and structure, as well as making sure that the content is easily indexed by search engines and appeals to human visitors.
Marketing Consultation and Printed Collateral Services
Many times our company develops a marketing campaign that will help our clients promote their company utilizing more traditional advertising methods that have the same look and feel of their websites. This can include creating custom printed marketing collateral: Corporate Brochures, Stationary, Packaging, Print Ads and Promotional Graphic Products (signs, vehicle wraps, banners, etc.). We assure your branding is consistent and expresses your company's positioning and personality across the various mediums.

Web Design
The web pages we build are driven by design and easy for clients to manage. We specialize in WordPress Themes and Custom WordPress websites.

Logo Design
Your logo is the icon and the identity directly associated with your company. We understand the importance a logo has on your company image.

Graphic Design
We make sure your branding is consistent and expresses your company's positioning and personality across all printed mediums.