MDesign Media Owner Marie Furman to Lead Web Design, Creative for Comprehensive Show Site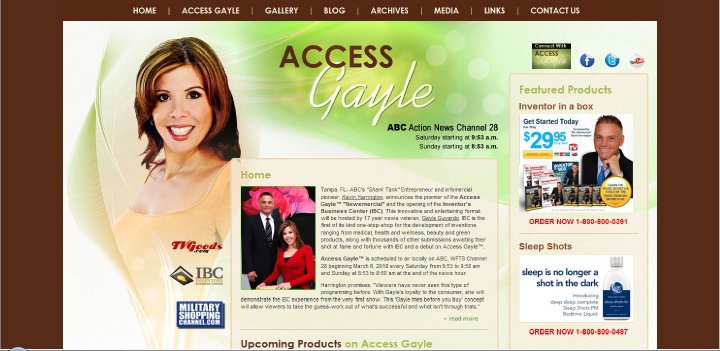 TAMPA – MDesign Media, a fast growing, full-service marketing and Internet media firm headquartered in Tampa, announced today that it has added local NBC news veteran Gayle Guyardo's new television venture, Access Gayle™, to its growing list of web design clients.
The Access Gayle "newsmercial" takes viewers on an intimate journey as next-big-thing product inventors have their ideas put to the test through real-life, hands-on product trials. Access Gayle, hosted by Guyardo and developed by ABC's Shark Tank entrepreneur and infomercial pioneer Kevin Harrington, invites viewers to "try before they buy" the latest in green, medical, health and wellness, and household items.
"MDesign Media's unique ability to apply attention-keeping creativity to the most effective web practices made them a natural choice to create and develop our website," says Guyardo. "MDesign Media owner Marie Furman has remarkably applied her thorough understanding of the goals of our show – to educate, inform and entertain – to our Internet experience. Marie's personal touch and professional direction will ensure that the site becomes the perfect complement to our show."
The website, accessgayle.com, will take the show a step further through in-depth profiles on the people and products featured on Access Gayle, provide ordering information, a blog, photo gallery and more. The site will also provide a behind-the-scenes look into on the show, profile Gayle Guyardo, and will include valuable information for people looking for ways to have their ideas featured on future episodes.
"We are excited by the opportunity to enhance the experience for Access Gayle viewers through our website creation," says MDesign Media Owner Marie Furman. "Gayle has proven her professional, caring approach to the community throughout her career and we look forward to carrying her personality directly to would-be inventors and all visitors of the website."
About MDesign Media
Tampa-based MDesign Media continues to be one of the nation's fastest growing web design and full-service marketing firms by producing results-driven creative with pragmatic, straight-forward execution for client throughout the Tampa Bay area and across the nation. In additional to dynamic web media creation, MDesign Media offers copywriting, social media, photography, planning/implementation, graphic design and print/electronic marketing services for Fortune 500 companies, start-ups and everything in between. For complete details on professional capabilities and creative portfolio, please visit mdesignmedia.com.
About Access Gayle™
From a paid program, "newsmercial" format, Access Gayle is an innovative new concept that entertains and informs its TV audience through Gayle Guyardo's inquisitive product research and demonstrations. Access Gayle airs locally on ABC, WFTS Channel 28, every Saturday from 9:55 to 10:00 a.m. and Sunday at 8:53 to 8:58 a.m. immediately following local newscasts. Additional information on the show can be seen at accessgayle.com.